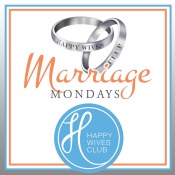 Today, I'm linking up with Fawn @
Happy Wives Club
for Marriage Mondays!
Over the past 10 years of being with Brian, I have discovered all of his quirks. One, being his ability to come up with a song...better known as his "hot beats." His hot beats are usually random, but the lyrics flow like he spent time coming up with it. His other beats are just plain funny, simple, catchy and usually has a dance to go with it. It's so catchy that he has gotten my sister and I singing some of his songs. Brian says that he would seriously come out with something because music has went down the drain. My brother usually asks him when he is going to come out with a CD.
As I'm typing this now, he is coming up with another "beat," lol!
Since we've been married, some of his popular songs lately have been dedicated to Mr. Tibbs.
What's my name?
,
Ready for Bed
and Tibbyhead Tibby are Mr. Tibbs' favorites. These songs may be the reason Mr. Tibbs loves him so much. When I try to do the same, Mr. Tibbs gives me a puzzled look.
On Sunday, Brian came out with a new song. Before church, I went down stairs to turn on the heat because it was freezing in the house. As I was coming up stairs, I heard him singing this:
"My name is Brian ____ and if I wasn't now I wazza | My wife is a Covergirl,
Beeza Beeza Buzza Buzza
"
Me
: ???
Brian
: If you didn't interrupt me, I could have came up with more!
Only my husband. He came up with more, but when I asked him to repeat it, he told me no. I guess he figured I was going to put it in this post, lol.
Gotta love Married Life, because he has gotten me singing remixes too! I'm very introvert, but because of my husband, sometimes he is able to get me out of my shell and be comfortable in my skin. With the two of us singing, if Mr. Tibbs could talk, then we could come out with a family album, LOL!
Rule of the day:
Laugh with your spouses!
:-)