This weekend, Brian and I went out to my co-worker and his girlfriend's birthday party. They always have a big party every year, but I haven't gone to one since I've been married. Since last Saturday was part one of my 3 busy weekends, I decided to put my hair in Marley Twists after I finished my errands on Friday. (
I will post about this on Thursday
) I got off work earlier than usual because I had to take Mr. Tibbs to the vet and the office closed at 3pm because my firm was accepting an award out of town. After I finished my errands, I came home and did the worst thing: took a nap. My 10 minute power nap turned into a 3 hour nap. I didn't start on my hair till 8pm, and I didn't start installing the twists till 930pm.
I stayed in the computer room while pouting in the mirror saying "Wwwwwwwwwwwwwhy!" On top of starting late, I was also moving slower than usual. That's when Brian came in and stayed with me till I finished. From 10pm to 330am, he played songs, YouTube videos and an episode of Big Bang Theory to keep me entertained. I kept telling him that he didn't have to stay up with me, but he always answered "I know plus I'm able to." By 3am, I felt like I did when I was in Architecture school. It was rough. After I finished, Brian and I fell asleep on an episode of Dr. Phil. Later that morning, Mr. Tibbs woke me up at 830am to play. I was so tired, that I dosed off when he was on my arm. I took a total of two naps before the party.
By 5pm, I started getting ready for the party. I was really excited because I was trying out a foundation brush a couple of my friend recommended. I've always used a sponge or my hands, so this was a step for me. My acne has cleared a lot, so I wanted my foundation to look flawless. I looked at the
pin
I found on Pinterest and started my application.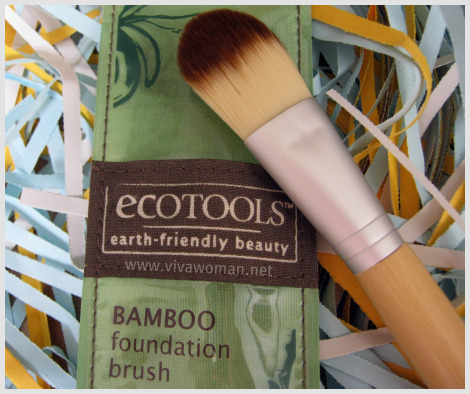 The foundation brush I brought. This brush is $5.99 in stores and online.
Source: Google Images

The results were awesome! My face didn't look cakey at all and my hands remained clean. I still have to get some new foundation that has a better coverage but that brush is my new best friend. Even though I thought I looked okay, I had to get approval from my favorite two men. Brian approved!


Results!
After Brian and I got ready, we headed to Buckhead to go to
Shula's 347 Grill
. We met a couple of people we already knew so it was a mini reunion. Because I took two naps, I forgot to eat so I was starving. My co-worker ordered appetizers for everyone, so we got to taste rib tips and chicken. Afterwards, we ordered our burgers and ate bread while we waited. We mingled and talked about work and family, as my co-worker took photos of the guests.
Brian and I. My co-workers flash on his camera was BRIGHT and I blinked, lol.
Finally, our food arrived. I could smell the bacon on my burger and I was so excited. Then I cut into my burger and it was medium-rare. Brian had the same issue. The waiter took our food and we continued to mingle. During cake time, our food finally arrived. Because we got our order late, we boxed our food up and said our goodbyes. We had so much fun. We got home a little after 11pm and ate our French Onion burger and BBQ burger. We are not big beef eaters but that burger was sooooooooooooooo good!
I can't wait to continue the fun for next weekend!